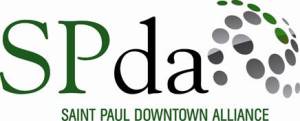 What is the Saint Paul Downtown Alliance?
The Saint Paul Downtown Alliance (SPda) is a public/private partnership that was formed in November of 2013.  Its purpose is to drive long term sustainable growth in downtown Saint Paul.  The SPda recognizes the great progress occurring in downtown and wants to act as a catalyst to accelerate this growth. The SPda is a volunteer driven organization.  It derives its strength from the broad cross-section of individuals and organizations who have one common thread; a strong passion for building a brighter future of downtown Saint Paul.
The SPda is committed to both short and long term actions to drive growth.  The group is leading an initiative to update the vision for downtown through its 2040 Visioning Project.  Upon completion, the new vision will help to inform planning and actions needed to realize the future course of downtown.
More immediately, the SPda provides support for three groups;  the Public Realm Committee, the 4th Street Initiative and the Downtown Parking Task Force.  The Public Realm and 4th Street groups focus on short term.  Both of these short term priorities are intended to have an immediate impact on downtown appearance and vitality.  The Parking Task Force is both short and long term focused, with a goal of working with the City to formulate a plan to address the key downtown parking issues.
If you care about downtown Saint Paul and want to make it a more vibrant destination, join the SPda.  Contact the BOMA office to learn more about how you can help.